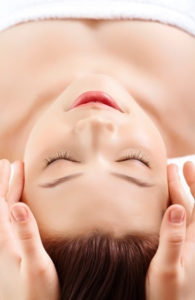 A younger look has never been easier to achieve than through the implementation of the LED Photo-Facial. Regular Photo Facial treatments will delay the wrinkling process, resulting in smoother, more youthful skin.  This facial is relaxing, gentle and 100% pain free. There is no downtime and makeup can immediately be applied.
A red infrared spectrum of light is used to obtain amazing results. The light has a therapeutic effect on living tissue, particularly the skin, connective tissue and muscle tissue. While the treatment is noninvasive, a complex series of biochemical and physiological events occur. Cells in the body react to light energy by increasing their level of rejuvenation. Out of this process new collagen is created, in effect healing aging skin. The LED Photo-Facial has been approved for use by the FDA.
Clients realize increased blood flow to the skin and enhanced oxygenation. Lymphatic system activity is stimulated which facilitates toxin removal and advances skin circulation. This is absolutely a "Must Have" modern therapy that is important to improving collagen production for a smoother, more youthful skin.
30 Minutes
$45