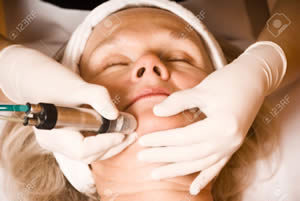 Electrolysis is a safe, effective and proven method for permanent hair removal. The procedure works on all colors of hair and all skin types. It is the only method of 100% hair removal recognized by the American Medical Association. It involves the use of a instrument that is gently inserts an electrical current to a single hair follicle at a time. The instrument is very flexible and never pierces the skin.
Phyllis uses a sterilized, disposable probe to penetrate the hair follicle. After the electrical current is applied to the hair follicle, the hair shaft can be removed from the follicle. Hair does not grow back because the hair root is permanently destroyed.
The level of electrical current can be adjusted to achieve a painless procedure. Reducing the electrical current can lengthen the amount of time to achieve the task. Phyllis is highly conscientious in regard to the use of exceptionally sterile equipment and always implements the highest industry standards in her every day practice.
15 Minutes ~ $24
30 Minutes ~ $35