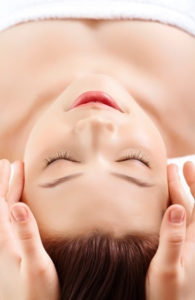 The Ultimate European Facial is for men and women and customized to each clients individual needs according to their skin type and what they would like to accomplish. This facial begins with a deep cleansing of the skin using the appropriate product solution. Next hydrating steam increases the effects of a gentle exfoliate. During the process a lymphatic and acupressure massage increases blood flow that helps to flush toxins and enhances the ability of the skin to utilize the nutrients contained in the products that are employed.
The natural healing art of Reflexology is applied to the hands and feet. Through application of pressure on the reflexes tension is relieved, circulation is improved, and the natural function of glands, organs and related areas of the body is promoted.
A revitalizing mask and a nutrient rich moisturizer is applied to restore the natural balance of the skin.
Receiving a facial is not only a relaxing and enjoyable experience, but it is also a key component in keeping your skin looking good and remaining healthy.
75 Minutes
$75